Gold leafing (gilding) overview
Gold leafing (or, more properly, gold-leaf gilding) is the process of layering very thin sheets of gold (or imitation gold) onto a specially prepared hard surface such as metal or wood, or paper or vellum, to create a brilliant metallic effect.

A similarly shiny effect can also be achieved by layering on sheets of silver, copper or other metals. However, gold is most often used because:
a gold colour is considered very attractive in just about every culture
gold leaf can be burnished to a particularly brilliant mirror-like shine
gold is unreactive, so gilding doesn't deteriorate or oxidise like coatings of other metals
There are other ways of adding gold to artwork than by using leaf: real gold leaf paint (shell gold), and various other gold-effect media.
Use of gilding in art, calligraphy etc
Whatever method you use, gold adds shimmer and resplendance to any object, and calligraphy decorated with gold harks back to those heady pre-Gutenberg days when the illuminated manuscript was the king of books. Whether you just add a simple touch of gold to emphasise one word, or lavishly layer it all over the page for maximum dramatic impact, it's worth learning how to gild using gold leaf.
Click for more on gold leaf application (loose and transfer).

As a self-taught calligrapher I struggled with gilding to begin with, but now I use it regularly to add impact or a touch of glamour. It's more than just a colour; gold elevates the status of a piece and gladdens the heart of the viewer! During the Middle Ages and Renaissance, gold was considered beneficial to the health. It is certainly very cheering. Generally, recipients and purchasers like seeing gold on calligraphic work, and they especially enjoy being told it's REAL gold :-)
Gold-leafing basics: oil and water gilding
Whether you choose to use real gold or imitation gold leaf, there are two basic techniques: oil-gilding, and water-gilding. Which you use depends on the surface you are working on, the finish you require, and what other materials (such as paints) you want to use alongside the gold.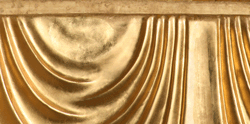 Oil-gilding is for wood or similar materials, signs, and indoor or outdoor building surfaces such as walls etc; the 'oil' used can be boiled linseed oil or a kind of gradually drying sticky varnish for the gold to adhere to. This kind of oily sticky substance would soak into paper or animal skin and spoil the working surface if you tried to use it on a page of calligraphy. It would also interfere with water-based paints such as gouache or watercolour. Therefore, oil-gilding is NOT suitable for most calligraphic work on the page. However, for calligraphy on wood, thick canvas, a signboard etc you would want to use oil-gilding, which is also the easier of the two gold-leafing methods. And I suspect that oil-gilding would work with acrylic paints (though I haven't tried).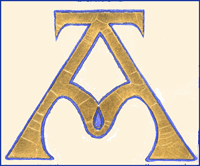 Water-gilding is the traditional gold-leafing technique learned and used by medieval illuminators and modern calligraphers. It is also the method used for fine quality gilding of picture-frames, art objects and fine detail indoors. Water-gilding can be used to apply gold either flat or in a raised, 'cushion' effect on paper, parchment, vellum etc. It's an old technique which has hardly changed since the Middle Ages. In its proper, traditional form, water-gilding is a longer and fiddlier process than oil-gilding, but it gives a superior, brighter finish.
The good news is that there are various short-cuts available to the calligrapher for a good gold-leafing result, some of which can be applied in other arts or crafts too. A lot of the materials on offer now are FAR easier to use than the traditional ones -- at least, for the amateur -- making it easier to get good results without having to invest huge quantities of time and money in the full professional training and materials. That said, I would never discourage someone from learning how to water-gild properly. It's a fine art in its own right, and much in demand: you might find it quite a profitable hobby!
Gilding and gold effects without using gold leaf
As mentioned above, there are other ways of getting a gold effect onto art and craft work, including 'real gold-leaf paint' and imitation gold-effect paints, gold-effect pastels, marker pens etc.
With the exception of the real gold paint, these are all cheaper methods which can be useful for roughing out artwork or for use in less important or low-cost pieces (such as a mass mailing of home-made Christmas cards.)
But gold leafing with its astonishing brilliance and historical resonance will probably always be the most impressive and glamorous gilding technique, so I'd say it is well worth a little effort and investment for the pleasure it will bring you and others.
And real gold-leafing doesn't have to cost much! In the UK, you can buy real gold leaf in books of just 5 sheets; in the US, Amazon.com do edible gold leaf (very pure 23-carat gold) cheaper than art gold leaf. If and when you want to buy gold leaf supplies, whether by mail-order or directly online, it is always worth comparing several price-lists; you can save a lot by shopping around.
Gold leaf application (loose and transfer gold leaf)
Gold leaf supplies -- online deals
Return from 'Gold Leafing' to the Calligraphy Skills homepage