Calligraphy alphabets
Various calligraphy alphabets are shown below for your reference and personal use. Feel free to copy and print them to help your calligraphy -- they are copyright, but only to restrict commercial reproduction!
Some scripts link to tutorial pages giving details and tips on how to write them. I'll keep on adding more information, as and when I can. Have fun!
---

Best book: Marc Drogin's Medieval Calligraphy: Its History and Technique
.
---

Best book for 'advanced' uncial (nib-turning, etc) is again Marc Drogin's Medieval Calligraphy
. A good book for first learning uncial is Anne Trudgill's Traditional Penmanship.
---

Best books for learning gothic hands from are (as always) Marc Drogin or Anne Trudgill and for beginners, George Thomson's How to Master Broad Pen Script.
See separate pages for CAPITAL gothic letters A-Z and decorated letters.
---

Highly recommended: George Thomson's How to Master Broad Pen Script
and Anne Trudgill's Traditional Penmanship.
---

My all-time favourite textbook for learning and improving italic is Lloyd Reynold's immortally bossy and utterly effective Italic Calligraphy and Handwriting.
Warning: he's an old-school disciplinarian!
---

There is nothing better for learning copperplate properly than Eleanor Winters' step-by-step manual Mastering Copperplate Calligraphy
-- or if there is, I would be very interested to know about it. Meanwhile, Winters is wonderfully loopy (no, not that way).
---
About calligraphy alphabets
Now that you've had a chance to look at a few calligraphy alphabets, it is worth asking a question so simple that hardly anybody knows the answer.
This question was never asked at my school. It took me until my MA at London University before I even realised the question was a useful one to ask.
And that question, believe it or not, is:

The word 'alphabet' refers to a series of symbols (letters) each of which represents one or more sounds, including vowels as well as consonants.
Because each letter of an alphabet stand for a sound, different letters can be combined in order to represent the sound of every single word in our language. We use the sounds (and the written words which represent the sounds) to mean different real objects, actions and locations.
The word 'alphabet' comes from the Greek 'alpha, beta' which are the names of the first two letters in the Greek alphabet:

Why? Because Greeks were the first to invent a true alphabet, which is to say a series of symbols for each sound they spoke including both vowels and consonants. (Some earlier symbol systems just showed the consonants.) The Greek alphabet dates from around the ninth century BC. Almost three thousand years later it's still going strong.
But that's nothing like as old as some other Eastern systems. In the history of writing, our Western calligraphic alphabets arrived on the scene quite late – and then they made up for lost time by developing into all sorts of wonderful styles very rapidly.
But, of course, there are other writing systems in the world than the Western Roman alphabet.
There are even calligraphic writing systems that aren't alphabets.
Calligraphy alphabets -- Chinese calligraphy doesn't use one!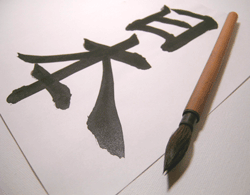 The trouble with a 'Chinese calligraphy alphabet' is that there is no such thing, because there is no Chinese alphabet as such.
Most 'words' in Chinese are drawn as a stylized little picture (usually called an 'ideogram' or 'ideograph', meaning 'idea-picture'). Such words are not made of combinations of letters. With most English or European words you can tell (roughly!) how to say them by looking at the individual letters they are made from. In Chinese, because the words are not made of a combination of letters that represent sounds, you have to have heard and memorised the unique sound that goes with each ideogram before you can pronounce it aloud.
There are some symbols in Chinese that can represent sounds, or common word-elements that may appear in more than one ideogram, but these still do not work like 'a for apple, b for banana'.
Still, those little ideographs are extremely beautiful. Each is like a small work of art representing a concept from the real world. Chinese calligraphy conveys the most exquisite balance and energy when it is painted in the correct style with a proper calligraphy brush.
(It would be easy to write a whole new page about Chinese calligraphy and the 'Chinese alphabet'.)
Just as an aside – we have ideographs in English too. Symbols in the airport for stairs, lifts, luggage and so forth can be understood by speakers of many different languages because they are based on pictures of objects.
Another good example is the emoticon. It doesn't have a pronounciation – it contains no letters (it's for 'ur eyes only'!) Calligraphically emoticons are quite exciting because although they are part of everyday written language, they originated with typeface characters, so we don't have an accepted way of writing them by hand.
It's worth thinking about! We know calligraphic versions of all the traditional letter-forms such as a, b, c, used to make up words. But we don't have a model for a Gothic :-) or an Italic !
A good project would be to make up some designs!
Calligraphy alphabets -- Arabic
Arabic has quite possibly the most calligraphic alphabet in the world. It is the most flowing, sinuous, structured, flexible, organic set of letters you are likely to see.
What makes it so special?
In English (and other languages using the Roman alphabet) each letter has a definite space of its own, separate from other letters. Even though we all probably learned 'joined-up writing' at school, we know that the joins are not really an integral part of the letters. They are just a way of getting from one letter to the next quicker and more fluently than taking the pen off the paper at the end of one letter, moving it along in the air and then putting it down again at the beginning of the next letter.
By contrast, many Arabic letters absolutely must join up with their neighbours or else they have not been properly formed and may even not be recognised. The Arabic alphabet is made of 28 letters governed by very exact rules about which ones join up and which do not, and also about where and how they join.
Therefore, each letter in Arabic has three shapes or forms – a beginning-of-the-word form, a middle-of-the-word form, and an end-of-the-word form. (Oh, and there's also a 'standing by itself' form for when you want to write out the whole alphabet.)
When you combine these letterforms into words, they melt together BEAUTIFULLY. They just … flow.
But imagine the trouble it is to make an Arabic font! Three forms for each letter and the machine has to join them all up together in the right places …
(Okay, there is not enough room here to say everything I want to about the Arabic alphabet and Arabic calligraphy …)
Oh! But there is one more thing to remember about Arabic – it's written right to left, not left to right – so it's excellent for left-handers.
In short ...
If you've read this far, you're pretty dedicated. And yet (as you can imagine) there's an awful lot more to be said about all kinds of calligraphy alphabets. This is just a brief overview to be going on with.
Maybe it's time to break open the pen-case and do some practice!




Return from 'calligraphy alphabets' to homepage