News and stuff
Argh ... income.
I need your help. I'm trying to make the site better for visitors by reducing random advertising. Please, tell me through the contact page –

• Why are you here at Calligraphy Skills today? Did you come looking for something?
• Off the top of your head, do you prefer: single stand-alone lessons on clearly defined topics? Short courses of five or six lessons? A big expensive shiny book? Traditional approaches to learning calligraphy? Radical new thinking? Anything else?
• How should Calligraphy Skills products be priced? How should the prices compare with other arty download prices?
• What do you think I should be giving away for free?
Please, please let me know your thoughts here through the contact page.
---
December 2014: rolling along
Lots is happening. I have a couple of big commissions on, and lots of smaller stuff, in between regular work.
The website desperately needs updating (it looks like something from next year, when Jurassic World comes out).
Many visitors have written me wonderful messages. I've learned about some brilliant projects and activities (see below). I am going to try to help my readers more and at the same time make my website earn some income; I really, really want to become an example of someone who's found ways to make a living — or even part of a living — from amateur art. There are so many of us out there. If we all just bought things off each other very fast,  
September 2014: visitor's art show!
A visitor to the site some years back, Werner Ungerer, has used my gothic tutorial pages to teach himself a very polished scribal gothic hand which he then used to create the most amazing decorated manuscript pages. They are (apart from being a huge creative endeavour) examples of superb and imaginative layouts for text. And the whole project, called Contra Natura, has been exhibited at a South African gallery. I'm going to link you to Werner's own page here so you can see some images of the pages — they're wonderful.
July 2014: new house!
I'm moving house! I'm moving to London, where I will be sharing a house with an investment lawyer and novelist. I shall have a small studio space at the top of the house, right over from the novelist dude's office, where I will create stuff. Calligraphic stuff. 
I've been a bit of a country girl till now ... well, other than living in Amman for three years. And Istanbul for a year. And that one year I lived in London before. And I suppose that chunk of childhood spent in Abu Dhabi. Other than that I've got no experience at all of living in an urban environment, so it's going to be a big adventure.
I am very excited to be near so many great galleries and museums.
February 2012: taking a deep breath ...
The past year has been madly busy with new editing and writing work (which I am grateful for) and so the bad calligraphy news is that I have not had enough time to work on this site as much as I would like :-( (although I have been quite good at answering all your emails).
But the good calligraphy news is I have been doing some more commissioned calligraphy work recently :-) Over the past few weeks I've been working on some lettering design for a lovely charitable fundraising project. Here's a small preview of part of it -- I don't want to give away the whole thing ahead of time!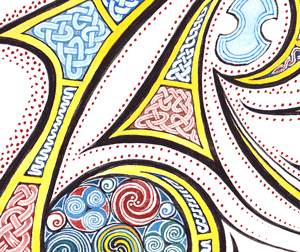 It's been a lot of fun working to create fresh and flowing versions of traditional Celtic decorative letterforms. The internal panels are filled with impromptu versions of knotwork and spiral design. These really don't have to be as precise and sophisticated as the designs in the original manuscripts to have a pleasant effect on the eyes -- and I had a blast drawing them freehand :-)
Update: the original artwork is now available for sale!
---
July 2011: more mad miniatures ...
... are now on display at my (very intermittently updated) blog. Comments, critiques and ideas are all very welcome.
---
March 2011: "Obscure Histories" exhibition
My two-year art collaboration with Swiss sculptor Adriana Hartley to create nineteen 'illuminated' sculptures was a great success. We were delighted by so many visitors' very interested responses and the fact that so many also decided to own our artworks. It is a special honour that the nationally renowned Swiss ceramics museum, Musée Ariana, admired and purchased our largest piece!
The miniature-painting technique I used is like that used in fourteenth- and fifteenth-century manuscript decoration, but I painted the images onto Adriana's dark, pearly stoneware sculptures instead of paper or parchment.
The exhibition was held in the Galerie Marianne Brand in Carouge, Geneva, Switzerland, March 2011.
An article about our painted sculptures, by art historian Sophie Wirth-Brentini, is published in New Ceramics Issue 2, 2011.